As an SEO team at a world class marketing agency, one of our top priorities is anticipating and reacting to updates to the Google algorithm. Google doesn't send out reminders or notifications when they implement updates, so staying on top of online metrics and data is key in the SEO world. Most Google algorithm updates go unnoticed by typical users, but a lot happened in the year of 2021 that permanently altered the way users access and interact with content through Google. Find out how your business can stay on top of these updates from our SEO experts.
Ever since Google was created in 1998 it has been continually evolving to provide a better search experience for users. Sometimes these changes apply to the physical appearance of the search engines result page (SERP) and at other times the changes have been to the algorithm that determines where sites rank. The more prominent updates have names like "Penguin," "Panda," or "Hummingbird," but there are likely hundreds of small algorithm updates that happen over the course of the year that most marketers and SEOs are not even aware of occurring.
2021 in particular had a lot of major updates affecting different aspects of Google's algorithm and even changing the results in the SERP. These changes in evaluating and ranking websites ranged from broad overarching elements of the site's quality to more specific pieces such as user experience. Our goal is to look back on these changes to understand what Google finds important and adapt our strategies for optimizing the website's quality from a technical and content perspective.
Many informational sites aim to have their content featured as a snippet on the SERP. With the Passage Indexing Update, Google changed the way pages were ranked. Instead of simply looking at the main topic of the page, Google now considers individual passages or sections within the page for ranking. This not only provides an opportunity for long-form content with many subsections to rank for those specific passages, but also takes niche queries in mind to provide the most relevant results for users. Going forward, it's important to have website content that is clearly structured in terms of subsections that also appeals to both broad and niche search queries.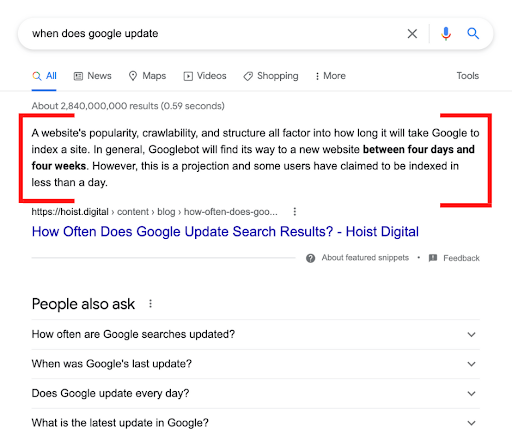 In February of 2021, Google released the Featured Snippets Update, resulting in the loss of 40% of featured snippets, with high losses in the finance and health sectors. The loss in featured snippets occurred mainly in short or single-word queries, with longer queries retaining most featured snippets. SEO experts were unable to identify the reason behind this drop, and while most featured snippets were restored by March, 2021, we never received an explanation from Google. With this in mind, it's important to ensure that all content is up to date with Google's E-A-T (expertise, authoritativeness, and trustworthiness) and YMYL (your money, your life) guidelines. Always be prepared for a surprise update from Google.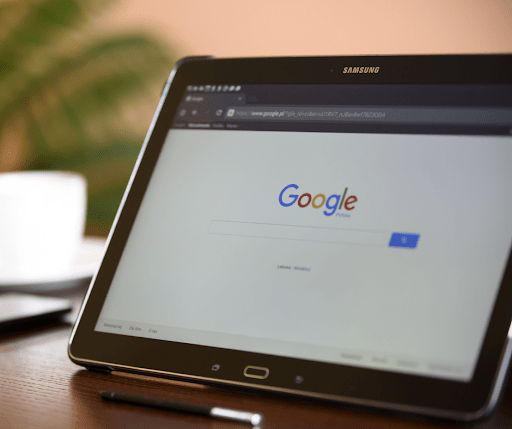 In both April and December of 2021, Google released Product Review updates that primarily affected products in the ecommerce industry, but the service industry was also impacted in some instances. Both of these updates revealed that Google values well-researched and detailed reviews that lead consumers to make informed decisions. Google does not want to see templated reviews or low quality content, and these algorithm updates were based on a reward system, rather than inflicting penalties.
The Local Proximity (Vicinity) Update impacted local searches and map pack results. Though the primary factors in this ranking are relevance, distance, and prominence, this new update dramatically affected rankings in December 2021. It had the most positive and significant impact in smaller, less established businesses that are closer to the user's search location and will rank better than an over-powerful, established business that is further away from the user. Google stated that this update "rebalanced" the local factors, boosting the influence of proximity as a ranking factor.

Google's Page Experience Update implemented rankings based on Core Web Vitals (CWV), as well as mobile usability, security issues, HTTPS, and Ad Experience. Meeting these new standards is critical when improving SEO rankings, user experience (UX), and conversions. As SEOs, we are now responsible for utilizing technical knowledge that previously only affected developers to analyze websites and make CWV recommendations. This wouldn't be possible without basic understanding of how HTML, CSS, and Javascript affect a website.
When it comes to updates that target spam, Google is hesitant to reveal the details to keep valuable information from those who engage in these tactics. Google released various spam updates in 2021, the first being a two-part update in June that failed to have a significant impact on rankings. A month later, The July link spam update focused on affiliate links, emphasizing that sites employing affiliate marketing should indicate sponsorships in the link. Google stated that this update is even more effective at identifying and nullifying link spam more broadly, across multiple languages.
Google's broad Core Algorithm Updates primarily focus on content quality and relevance but are often difficult to pinpoint and optimize for. Typically, a core update reevaluates the quality of the content and its relevance to a search. The first update of 2021 was released in June, but was incomplete and buggy and affected YMYL sites. Google implemented an additional update in July, reversing some of the effects the June update had on individual sites. The final update in 2021 occurred in November, and had a more volatile effect on sites in the health sector, and was a larger update than the previous two, but this still wasn't the biggest update Google released in 2021.
Google's Title Tag Update introduced a new system for generating page titles in SERPs in an attempt to show more relevant titles for pages that aren't optimized. However, it also changed how often Google changes title tags, causing optimized title tags to be rewritten. Similar to how an automated Google translation will generate content almost right, generating title tags is not an exact science for Google. They do not alway read right and are often not as optimized as one written manually by someone who understands basic SEO best practices. These clunky rewrites generated a lot of discussion and backlash from the SEO community, prompting Google to respond by improving the process, using HTML title tags more than 80% of the time.
The Final Key Takeaways
So what do we do with this information? As an SEO team, knowing the history of Google's algorithm updates is crucial to optimizing content in the future. Analyzing previous updates and their effect on rankings provides data for us to better do our job in the future. Re-optimizing content is a part of the game with Google; as they make updates so do we. Looking for more information on how we can help you keep up with Google? We can help with that!