Stop. What Do You Hear?
Now listen. What else do you hear?
Whether or not you're listening, the sound that surrounds you has a profound impact on your daily life, triggering both physiological and psychological responses. In fact, it's the key to sonic branding.
WTF is Sonic Branding?
Sonic branding is the association of audio (or lack thereof) as part of a brand's larger identity. This association is not created organically by fans or followers — it's the strategic development and deployment of a consistent audio experience adopted by the brand.
Visual identity is a branding technique in which a brand adopts a collection of visual elements such as color, logo, and font to differentiate it from the competition. The same can be done for a sonic identity with auditory elements.
Netflix's "ta-dum." McDonald's "Bada Ba Ba Ba." Even the startup sound a Macbook makes or the ding of a new iMessage. All are sonic brand cues that instantly and uncontrollably bring the brand to the forefront of your mind. Think of it as visceral branding.
The Neuroscience of Sound Perception: How Audio Stimulus Affects Sonic Branding Strategy
The science behind sonic branding supports the notion that sound is a powerful motivator.
Sound is ingrained in our subconscious: Our brain constantly listens and filters out "sonic trash," or noise it deems irrelevant. While we may not be actively listening to the noise, we certainly hear it. There is an 86% correlation between our subconscious reaction to sound and our decision to engage/return (or avoid) an experience.
Sound colors our other senses: Studies have found that we react to sound 20 to 100 times faster than we do to visual stimuli. As the first sensation we experience, sound around us affects the input we receive from our other senses, and has the power to change our perception of them.
Sound lingers: According to neurologists, sound lingers in our minds for almost five seconds before it begins to fade, whereas visuals disappear in less than a second.
Sound increases our ability to assimilate new information and recall it: Our cognition is divided into two processing systems: one visual and one verbal. These two systems are separate and activated by different information; however, when your brand presents consumers with both audio and visual stimulus, a dual-coding process occurs. The result? They are able to process new information faster and recall it more easily. This is especially important in today's market, where consumers experience visual fatigue due to an over-saturation of visual elements in the market.
Sonic Branding ROI: The Power of Sonic Cues in Advertising
Groundbreaking research conducted in 2020 (see the chart below) revealed that ads that contained sonic brand cues tested 8.53 times more effective than those that contained only visual assets.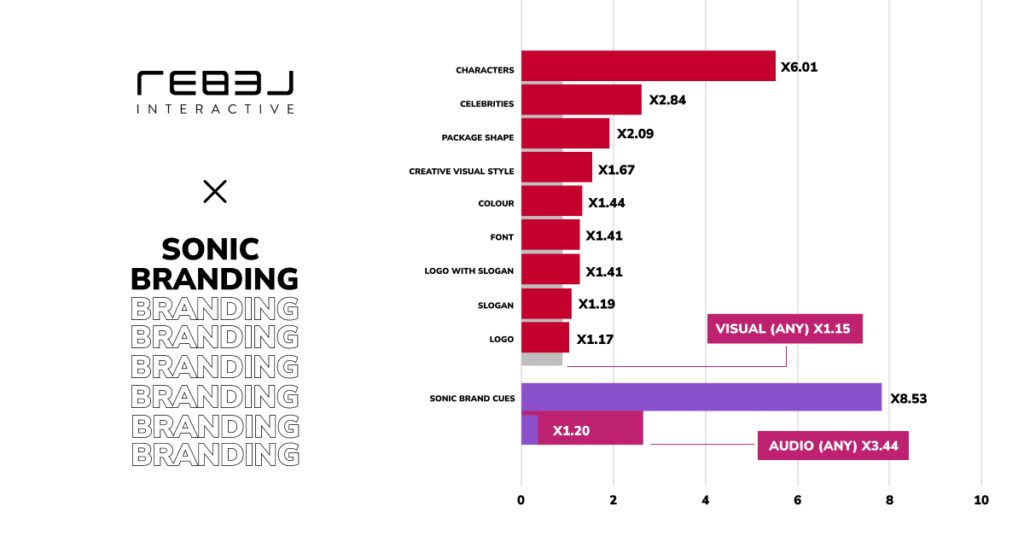 Sonic branding has proven so effective that big-name brands, including American Express, Frito-Lay, Singapore Airlines, Beway, General Mills, Walmart, and others have begun to significantly increase budgets around it. In doing so, they've seen a noticeable increase in brand recall, trust, favorability, and purchase intent. This brand awareness is essential for a long-term sales strategy, as 82% of consumers are more likely to buy from brands they know.
Sonic branding is ramping up as brands work to capitalize on the power of sound. In 2021, the number of brands implementing sonic strategies increased by 22%:
MasterCard: Within 12 months after the launch of their sonic brand identity, MasterCard reported that 77% of their customers believe it has made their brand more trustworthy.
Tostitos: Six months after the creation of their sound logo, Tostitos reported a 38% increase in brand recall, a 13% increase in brand score (compared to the consumer packaged goods food norm), and a 70% increase in overall logo appeal.
Mercedes-Benz: Implemented in 2019, The high-end carmaker experienced a 300% growth in comments about their ad music in digital channels (proof of growing engagement and time spent with content). Learn more.
Spotify audio-based advertising programs: Their efforts have led to up to a 26% increase in brand awareness, a 46% increase in brand favorability, and a 51% increase in brand consideration.
Factors Driving a Sound Market: Why Sonic Branding Matters in Audio Channels and TikTok Ads
There are several market factors driving the need for your brand to think strategically about sound. As consumers spend increasing amounts of time across audio channels where your brand cannot be seen — you need ownable audio to reach them.
Currently, audio represents 31% of the average consumer's overall media consumption, with 28% of Americans listening to podcasts weekly. In addition, past consumer behavior patterns indicate that audio consumption increases during a recession.
Statista reports that total revenue in smart appliances is forecast to grow to $87 billion by 2027 and international smartwatch users will reach 231.3 million by 2026.
Expected to reach 2 billion users by 2024, 88% of TikTok users claim sound is essential to the experience, with 73% claiming that they would "stop and look" at ads with audio.
The forecasted growth of smartwatches and speakers combined with the growing popularity of audio-driven content makes sound an integral strategy for your brand to make deeper inroads into your target market and thrive in a competitive market.
With Rebel, the opportunities are endless: podcasts, voiceovers, soundtracks, playlists, sonic logos, on-hold or in-store music, branded sound-guidelines, notifications, and even product or packaging noise. What's the sound of your brand?
Ready to break the silence? Reach out, we're listening.