Lapse — a new (or at least new to us) disposable camera app — has skyrocketed to #1 in the App Store in just one month (jumping from #118 at the beginning of September). How was Lapse able to achieve this scale of growth in such a short amount of time? The answer is intriguing: by forcing users to invite their friends to join.
The TLDR of Lapse
Here's an overview of everything you need to know, explained in detail in the sections below.
– What is Lapse?: Lapse is an "invite-only" disposable camera app that also incorporates social media through sharing photos with friends. 
– How Can Users Join Lapse?: In order to join Lapse, users need to add eight current users as friends and invite five of their friends to join.
– How Does Lapse Work?: When posting on Lapse, users snap a picture and then wait for the photo to "develop". Lapse also incorporates other social media features like private messaging and a "Featured" page.
– Will Lapse Last?: With the use of growth-hacking techniques, Lapse may be the latest in the revolving door of viral micro social platforms.
What is Lapse?
Lapse is an "invite-only disposable camera" that combines the appeal of previous disposable camera apps like Dispo and Dazz Cam with connecting and sharing your moments with friends.
Since its initial launch in 2021, Lapse has changed its format from a disposable camera app for friends to form groups, take photos, and view them after they are "developed". Lapse intended to create a disposable camera app where friends could share their pictures within their groups once the "roll" of 36 photos is developed and ready for viewing.
After seeing users utilize Lapse as more of a photo dump or photo journal platform, they spent the next year and a half reworking the app to have a more social aspect. Earlier in 2023, Lapse launched its new iteration, leading to the current social platform we see today.
How Can Users Join Lapse?
What sets Lapse apart from other more traditional social media platforms is its "invite-only" approach. Before accessing the app, users must complete two steps:
1.) Add eight existing users as a friend
2.) Invite five people from their contacts to join
With this in mind, it is easy to see the snowball effect of every new user adding at least five users to the platform.
How Does Lapse Work?
Lapse acts as a photo journal/dump that also incorporates the aesthetic and allure of disposables. When posting on Lapse, users snap a picture and then wait for the photo to "develop". There is no set time on when the photo will finish "developing", adding to the spontaneity of the platform. When photos are ready for posting, users can archive it if they don't want to share it with their friends.
While Lapse is primarily intended for users to share memories with friends, Lapse's "Featured" page allows users to submit snaps to the Lapse team from your "Memories". If your picture is selected, you receive a "special tag" on your journal.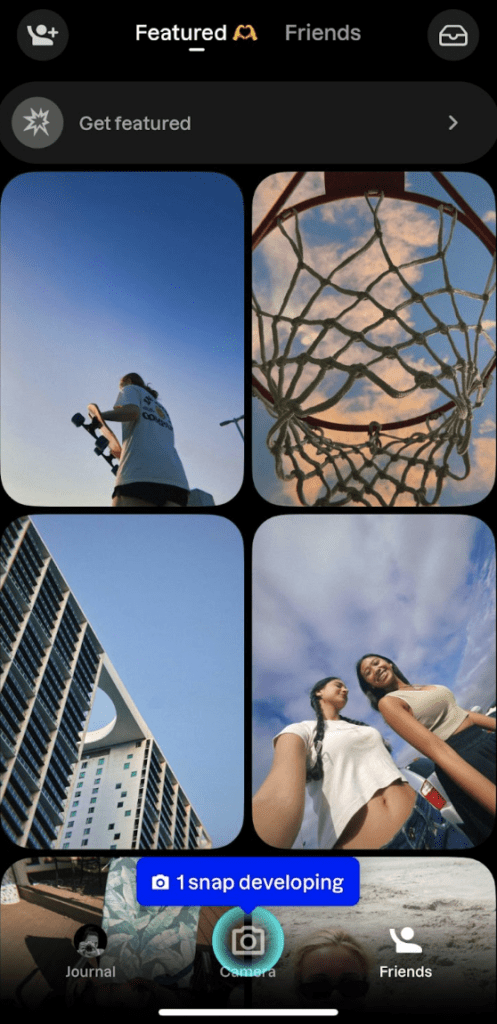 Another feature of the app incorporates some of the private messaging features of Snapchat, where users can send "Instants", or pictures of them at the moment, directly to their friends. This is a way for users to send private pictures to their friends on the app, developing a messaging cadence similar to Snapchat streaks.
Lapse's Unique Features: Catering to Gen Z
One noticeable outlier of the Lapse app is the effort put into the UI/UX of the app itself. The utilization of sounds like vibrating or buzzing is designed to catch user attention, engage them, and in turn make their experience on the app more satisfying.
Lapse also caters to the Gen Z audience, utilizing language like "okay boomer" throughout the app and other popular phrases that are an effort to relate to the audience they are trying to attract and maintain. In fact, TechCrunch reports that 79% of Lapse users are female and 71% are under the age of 24. Additionally, 80% of users currently are based in the U.S.
Another unique feature of Lapse is user "Journals", which acts as a profile page for users. Instead of showcasing a single profile picture and header image, users can use several "selects" or images to populate their profile in a rotating stream of pictures. Users can also include their favorite songs, emojis, and college, and astrology signs in their profile. While there are no real performance metrics such as impressions or engagement rate, users can select an emoji to react to their friends' posts. Incorporating these different elements engagingly personalizes the profile (when was updating your social media ever profile fun before?). Including these more personal characteristics caters more to a younger generation and their interests – more so than other micro-social platforms.
What are Micro-Social Platforms?
Following over a decade of activity on platforms like X (Twitter), Facebook, and Instagram, more users are tuning into more niche platforms that speak to their specific interests and foster relationships with people users know personally. These platforms deconstruct the typical social media format by encouraging users to share less formal or polished content with their inner circle.
A more recent example is BeReal, a photo-sharing platform that encourages users to share candid moments at random times of the day. BeReal exploded in October 2022 with over 15 million downloads, yet some of its momentum has slowed over time. By February of 2023, BeReal received an estimated 4.2 million monthly downloads. Since its rise in popularity last year, only 14% of Gen Z currently use BeReal, and only 11% of Gen Z use BeReal daily.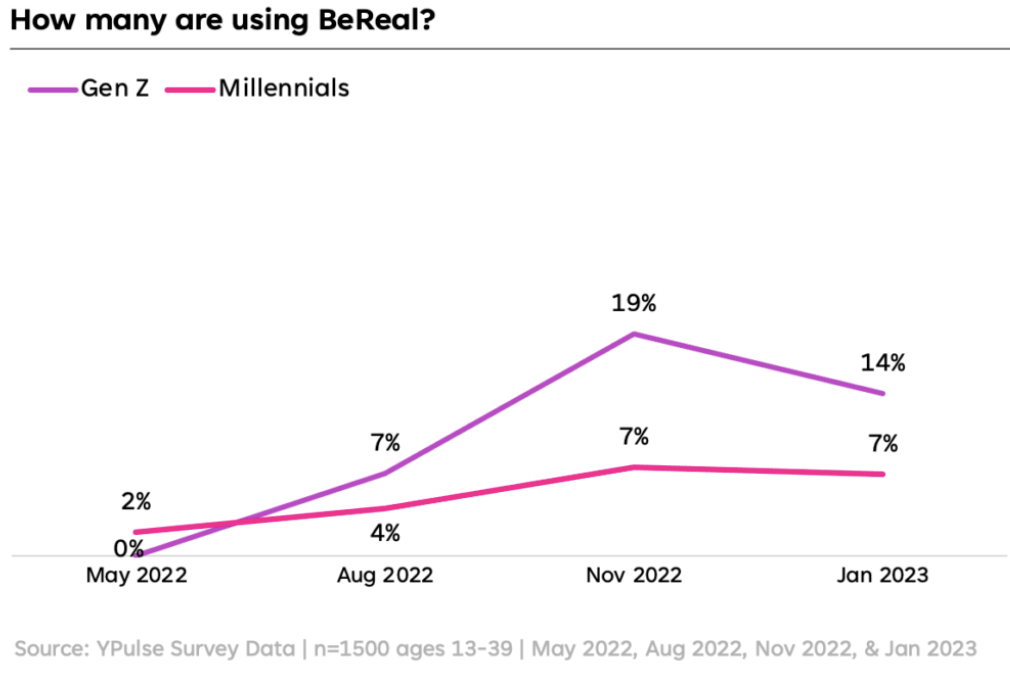 Many micro-social platforms, while popular during their peak, do not sustain the popularity that comes with being a social media juggernaut like Facebook or X. While these new apps captivate audiences, over time users revert to using their typical social media apps.
Will Lapse Last?
Following the app's relaunch in June 2023, Lapse has seen an explosive growth in numbers – mainly in September of 2023, where the app was previously not even in the top #100 apps for photo and video. With over 1.2 million installs (92% being from the United States), Lapse has grown rapidly within the last few weeks.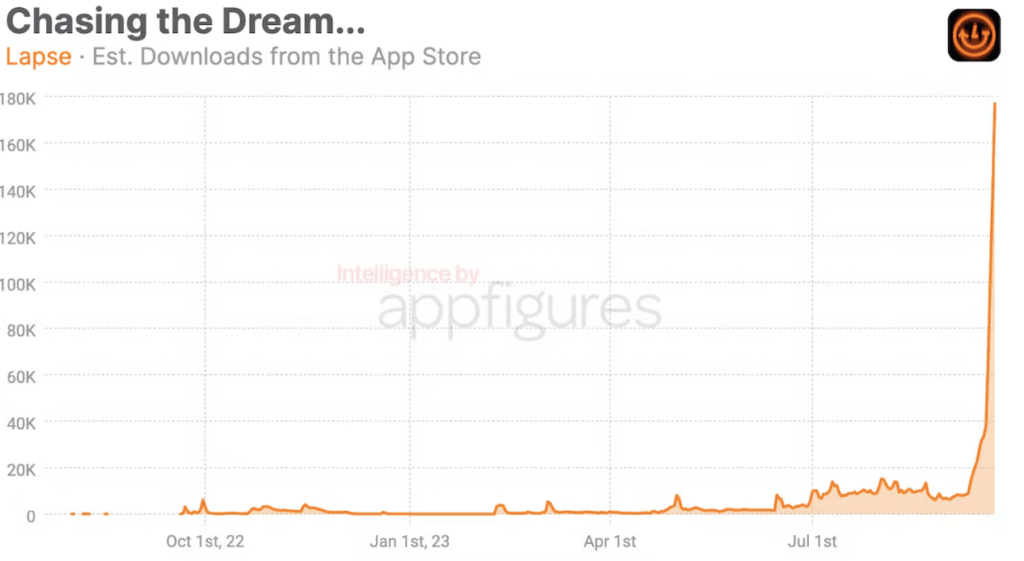 While the app has seen exponential growth in a short period of time, we have to wonder whether this model of gaining app downloads is sustainable. New apps often leverage growth-hacking techniques to climb the App Store charts, such as trying to go viral on TikTok. Lapse has taken this a step further by making users invite their friends to gain access to the app. While the idea of exclusivity may make the app more appealing to users, will they stay active on the app after downloading it? Especially after being sent an invite from their friend and having to invite another 5 friends to join.
Lapse certainly isn't the first of its kind, and nor will it be the last. Apps like Poparazzi and Dispo gained fleeting popularity through similar means, and both have almost entirely lost their momentum. Poparazzi was removed from the App Store after receiving shockingly low daily downloads.
Only time will tell if Lapse is here to stay – but spoiler, we're not convinced. When considering how Lapse was able to reach its height of popularity in mere weeks, we have to question the longevity of the social media app. Until then, we'll appreciate the creativity of the app itself – and its nerve in its onboarding process.