A journey driven by the student experience.
Carlow University's vision was clear: build a new website to better serve prospective and current students, donors,
and partners, while effectively increasing brand perception, conversion, and credibility.
Embracing a competitive landscape
The need may not seem complex, but enrollment marketing requires a deeper understanding of the higher education industry, brand experience, and of the increasingly sought-after audience you're targeting. In addition to those challenges, Carlow University is located in Pittsburgh, Pennsylvania—among the most competitive markets for traditional students and adult learners in the nation. 

Meeting Student Expectations and Needs
After working with several universities and colleges, we've learned that there are several "must-haves" that go into creating a successful, barrier-breaking higher education brand. The keys include:


Avoid "3 and a tree." This refers to imagery that is anything but stock or posed. It's about creating authentic images that capture what real students at all ages look like and that accurately reflect their campus and learning experience.

Student journey alignment. The site needs to drive conversions at critical points of the student journey—from lead to enrollment. It must exceed student expectations and needs regarding course, program, and other choices—and it needs to do so as intuitively as possible, working to guide them on their journey toward finding the perfect fit.

Meet audience expectations. Students seeking the right school for them expect more than just course and program information. They demand speedy user experiences and comprehensive content that anticipates their needs, answering questions before they're asked. And that content must be found, so SEO has to be a core component of any enrollment marketing strategy.

The site needs to become an enrollment marketing machine. Typically, higher-ed institutions are filled with loud voices and internal politics fighting for digital space; however, the fastest way to lose a student is to put them last. You must cater to them. Speak to them. Guide and nurture them. Inspire them. Convince them that your school should be on their list of three.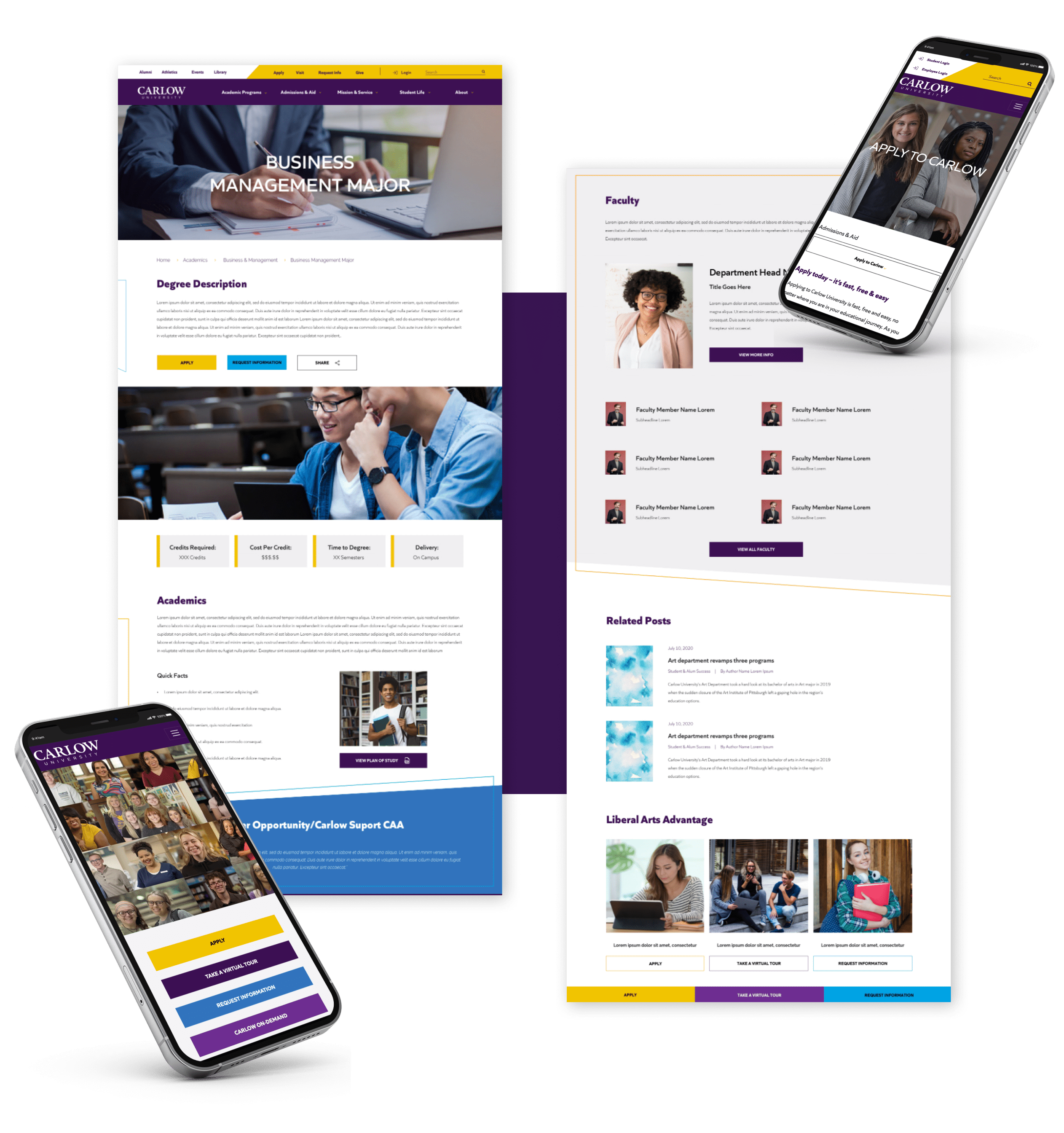 If the brand parameters were built around student needs, Rebel's approach doubled down, drilling into the student mindset. The audience was fairly broad, including traditional degree completers, nontraditional adult career changers, career advancers, skill refiners, and more. Yet, there were similarities in each segment that could be targeted and leveraged:
Noise. These students and prospects receive over 140 billion emails a day. It's just part of a landscape including social media, fake news, and other stressors. The noise is real and more prevalent than ever before.
Desire. They all have a strong desire to take action to create change and make an impact, but they are unsure of where to start or place their focus.
Confusion. There's confusion and stress around all aspects of this, making it difficult to find your place in this world—both personally and professionally.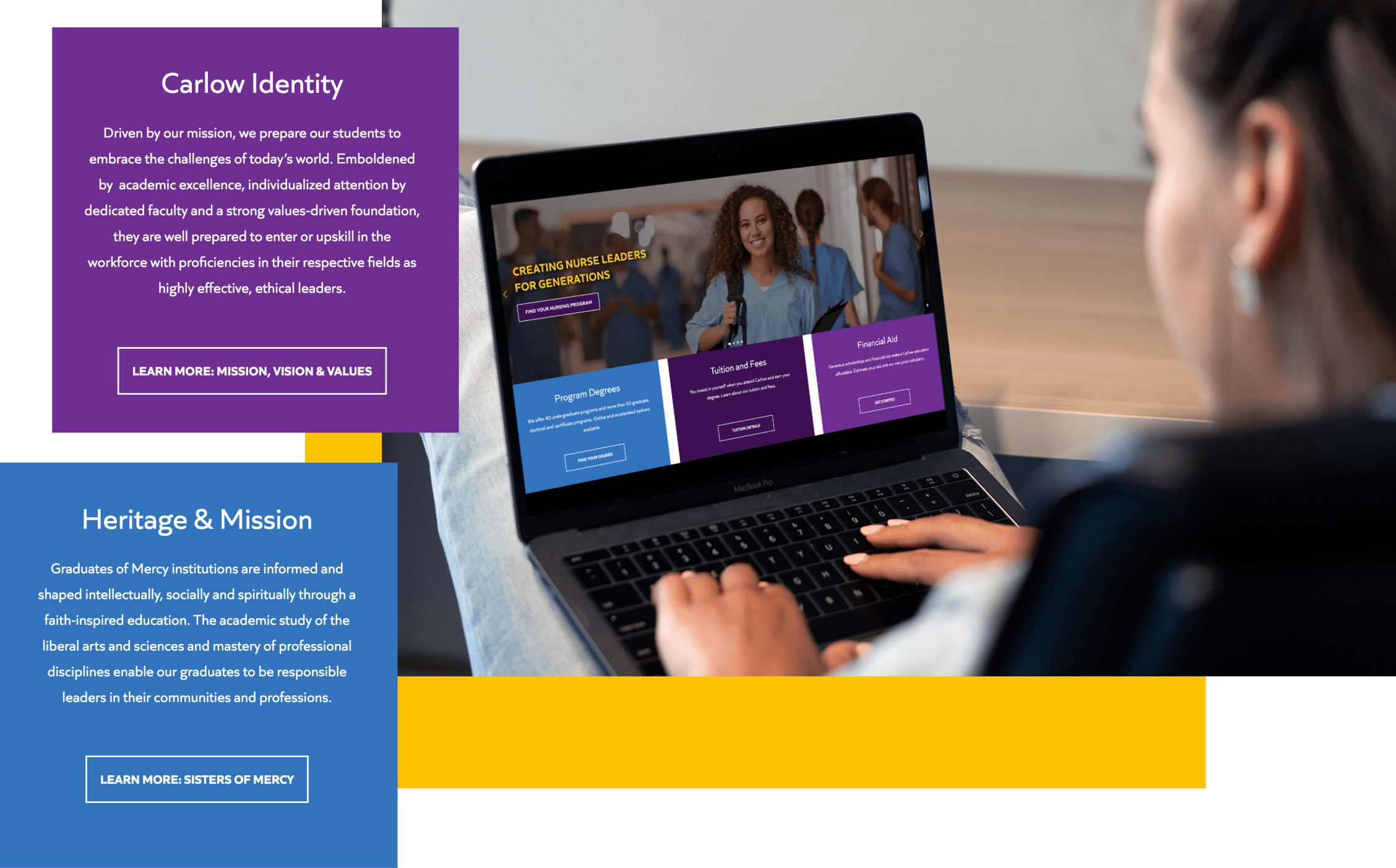 Given all those parameters, the approach we took involved three core prongs geared to breaking through the noise, easing confusion, and serving up the life-changing educational opportunities these students were looking for:
Prioritize search. We wanted to ensure that SEO was at the forefront of the strategy, so that Carlow would be where students were searching, when they were searching.

Create relevant content. The key? Demonstrating empathy. All the content created needed to acknowledge students' concerns and help lead their decision-making.

Build a trusted content management system. We wanted to develop a CMS that would scale with Carlow, making it easy to adjust content as the school's programming grew.
With our deep understanding of student needs and expectations, we were able to build the enrollment marketing machine Carlow University needed.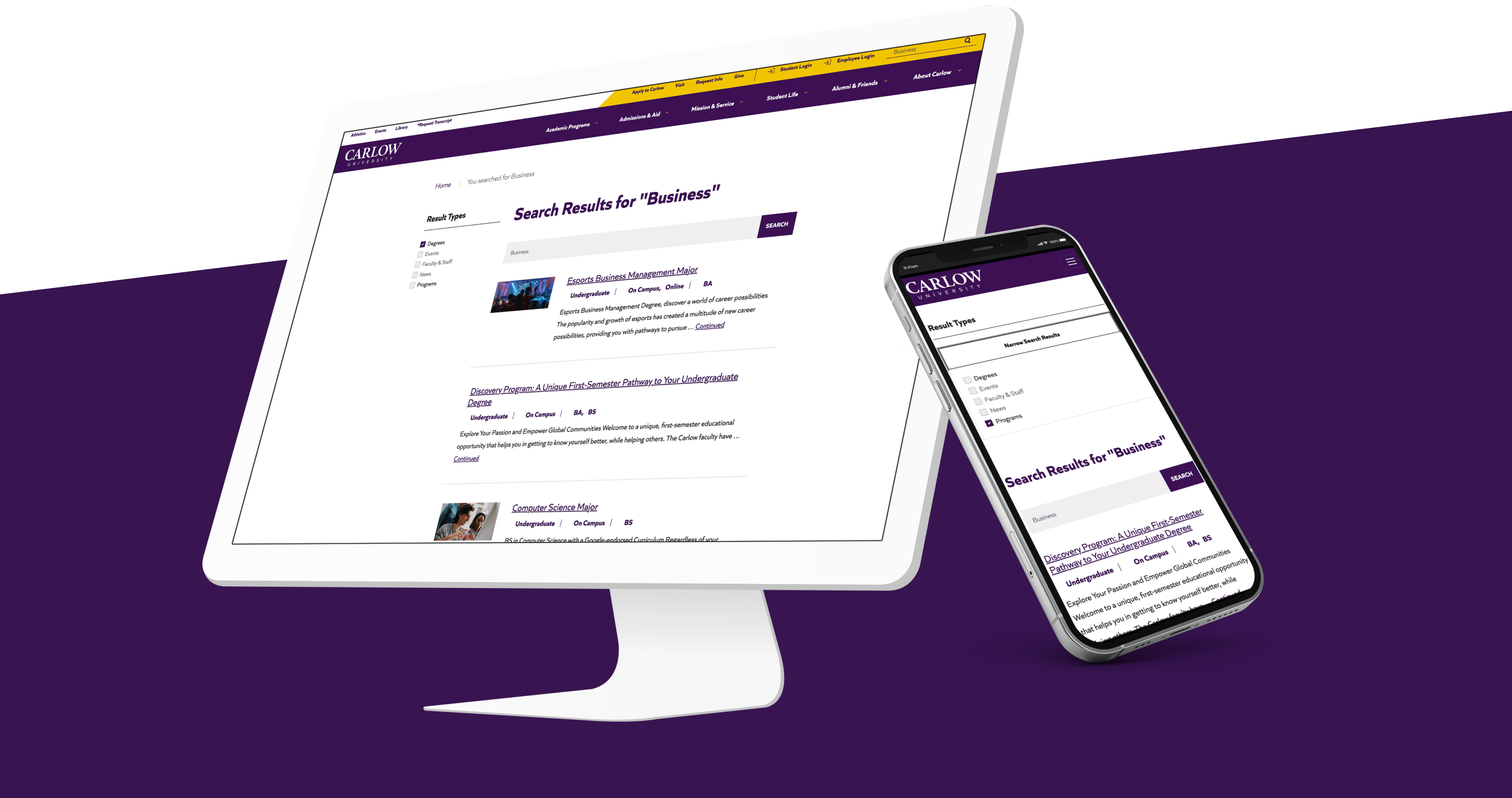 Are you ready to promote your brand?
Let's get your journey started