Regis University
Setting a Lasting Student Journey Standard
Regis University was constantly giving us feedback whenever we showed stock imagery in ad creative. You'd typically hear Kim Frisch, the Dean of Admissions at Regis, saying something along the lines of, "I hate it."
So, we decided to flip the script and create a fresh, inspiring library of image assets that deeply inspire and connect with working professionals and post-traditional adults who are looking to further their skills through higher education. The images would be used in a host of digital experiences, lead nurture campaigns, paid media and other projects.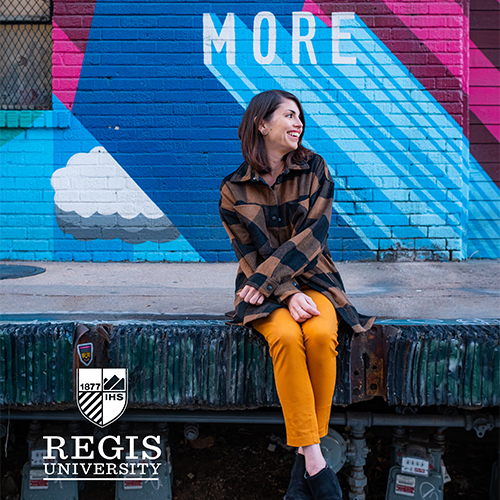 How we captured a concept in photos
The strategy was simple: lean into "Human-Centered Marketing." Capture creative assets filled with purpose that acknowledge every step and emotion of the prospective student's journey, from searching and restless, to excited and indecisive, to accomplished and enrolled.
We Made a Road Map
Rebel didn't walk into ideation for the photoshoot cold. In fact, we tapped a valuable resource for direction initially created for Regis, a long-standing Rebel client, when we first began the photoshoot project: the prospective student journey map
Like most journeys, the Regis map outlined the keys to gaining interest, engagement and commitment. But things changed from there. First, the higher education audience tends to be much broader, including degree completers, career changers, career advancers, and skill refiners and distinguished audience segments within those broad categories (e.g. military, young parents, recently unemployed, new movers, etc.).
Second, this audience requires a deeper understanding of its situational setting—all are considering major life changes, looking to find new opportunities, greater purpose or even reinvention—meaning a need for an overall empathetic, compassionate approach in everything we did. To gain that knowledge, in addition to the Audience Mindset we research for each journey, the Regis map dove a little deeper to uncover the emotions of the audience, offering insights into Feeling, noting that these students can be confused, overwhelmed, stressed, excited, self-assured and more as they take the journey.
A Journey in Pictures
Using the Regis student journey map as a guide, the team identified two main themes for the shoot: Working Professionals and Denver Culture. The working professional photos captured the nontraditional student in contemporary work environments, embracing flexibility and modern aesthetics, While the Denver Culture images tied Regis to the vibrant art and spirit of the Denver community.
The process involved multiple interviews, scouting 18 locations, two site visits, 48 hours of shooting and a bunch of coffee. The effort resulted in nearly 3,000 photographs, which we would edit down to around 400 completed, edited photos.
In the bigger picture, the individual photos comprised a perfect visual representation of the Regis student journey—and having it mapped out before we ever took a shot got us there.
WHAT OUR CLIENTS SAY
Want to see work examples?