Wiley
Highlighting the value of looking at an established brand from a fresh perspective.
What happens when your prestigious, entrenched brand—with a 200-year history—runs into a modern-day business killer?  
Wiley Efficient Learning is a leader in producing and providing test prep material for accounting, finance, and business certifications, covering nearly 20 disciplines, including CPA, FINRA, CFP, Investment Banking, and more. As far as the test prep industry goes, the Wiley brand is a standout, boasting an enviable track record and an unbeatable value proposition. Imagine the messaging power of being able to say that nearly 90% of the students using your prep platform pass their tests the first time and that you've helped almost a million candidates pass their professional exams. And those who don't pass exams the first time around continue getting the test prep materials until they do (essentially a lifetime value). 
Everything was humming until Wiley came up against a challenge that literally no one anticipated. When COVID hit, their sales immediately declined. Because most of the exams had to be taken in-person, people simply weren't taking them, meaning they weren't buying test prep materials. In addition, many of their competitors began copying their value proposition. In short, it was becoming harder to lean on brand equity and what was once a unique value proposition.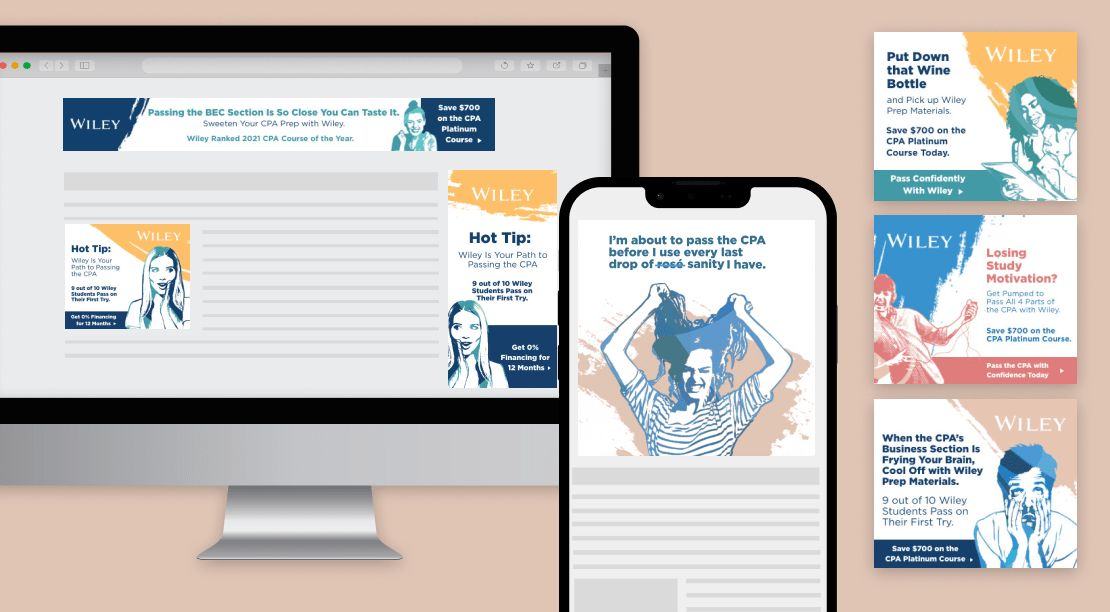 Uncovering Opportunities
The challenge Wiley presented Rebel with was simple in statement, but wide in scope: How could we move the needle on the brand and on test prep sales?
"The first thing we did was to take a step back and explore Wiley in a larger context," notes Sam Manz, Senior Account Executive at Rebel. "We looked at the industry as a whole, with a focus on what competitors were doing, what Wiley was doing, defining their audience and how they were targeting them, and other aspects of their current marketing. We knew that the education and test prep landscape had shifted, so we needed to account for changing audience needs in any solutions we offered. Given that the competition had caught up, we needed to do more than level-set; we had to get Wiley ahead of the competitive curve."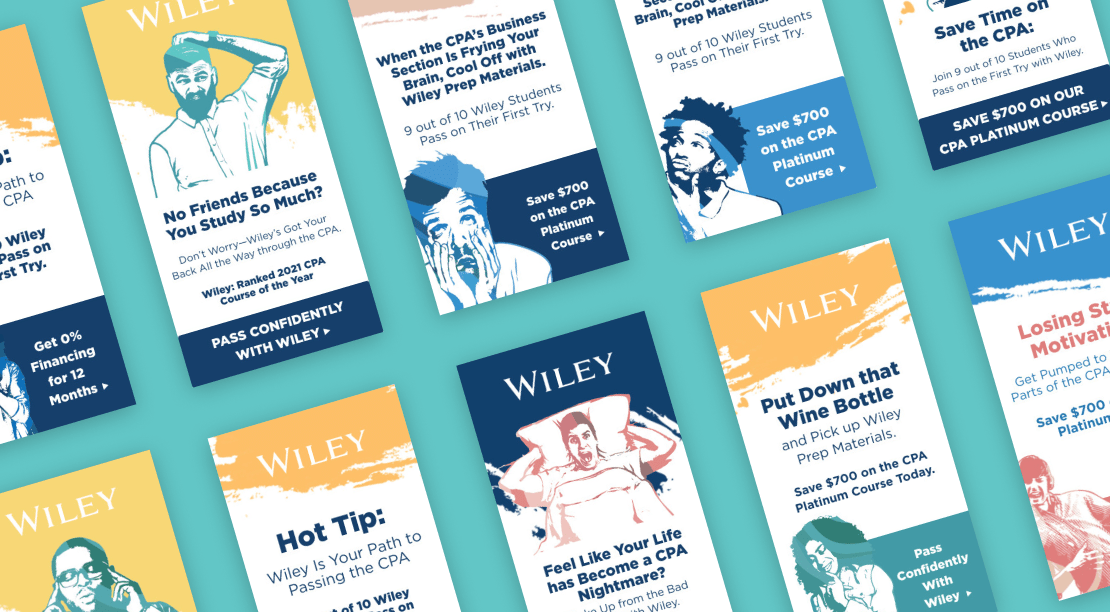 From a tactical standpoint, Rebel did a lot of legwork before building out tactics and programming. That involved taking a deep dive into understanding the audience (e.g., demographic research revealed that finance test prep purchasers enjoyed nightlife, which would impact creative) as well as SEO and paid media audits. We also got granular. For example, a discount analysis found that the automatically applied discount—no code was necessary—on their website had a negative impact on the brand. And a secret shopper analysis showed us where we could improve and amp up the volume around customer service.
"All of that groundwork revealed where their customers were in terms of lifecycle—from being in high school thinking about becoming an accountant or in college already getting their finance degree to already being an accountant looking to move up or working at one of the top three firms, studying for their exam in their free time," explains Sam. "As important, we were able to identify what they were looking for in test prep, such as a preference for flexibility or pricing."
Holistic Programming Yields Results
Overall, the work Rebel did upfront unearthed a significant marketing opportunity. Based on the data from that initial exploration of brand, audience, and competition, we developed a robust, omnichannel content strategy that encompassed a wide range of solutions, including audience targeting, social media tone of voice and consolidation tactics, recommended podcasts and articles to target for better interaction, a proposed content calendar with topic clusters, SEO, and more.
"Essentially, we took a holistic approach that tied all of those efforts together," Sam says. "It was part of a cohesive strategy in which every tactic was interwoven. All the concepts were designed to reposition and enhance the brand to meet that shift in audience demand. We remained true to the core of Wiley's branding but used the data and content to amplify their attributes and offerings the way that their target audience wanted to see them."
Within six months of program kickoff, we saw our solutions begin to gain traction. For example:
Rebel created a hyper-targeted media approach that focused on three unique audiences—CPA, CFA, and CMA—and on building awareness, driving lead generation, and lead nurturing. Initial results included:
CTR increased to 5.32% from 4.97% previously, a 31% overall increase.
CPC moved from $4.85 to $3.13, a 35% decrease.
32% improvement in cost per conversion in Paid Search and 19% improvement in cost per conversion in Paid Social.
As the official partner of CFA Institute, Wiley needed a paid media campaign with refreshed creative that would promote the partnership and increase sales. The volumes are available for purchase across the multiple supplier stores, like Amazon and Barnes and Noble, in addition to Efficientlearning.com, which posed an attribution reporting problem. Rebel's approach was to create a holistic media approach that targeted CFA takers and past purchasers on desktop and mobile. The results:
Over the campaign's 7 days, search drove a 4% CTR, and overall CPC for CFAC campaigns was at $2.76.
Social campaigns quickly gained traffic. For example, LinkedIn specifically drove 19 conversions through the campaign.
As far as overall results are concerned, here are some recent numbers (April 2022):

88% improvement in return on ad spend from 1.8x to 3.4x
Overall 39% decrease in cost per acquisition
CTR improved from 2.2% to 5.9%, a 168% improvement
Branded Search volume increased by 19%
Purchases associated with non-branded search campaigns improved by 39%
"At the end of the day," adds Sam, "the work really came down to taking a comprehensive approach to looking at the brand and audience up front; to exploring what didn't exist and then finding opportunities for optimization across the board. What we provided and the results we achieved were all just part of smart marketing."
Want to see work examples?