Have you reviewed our privacy policy and do you accept our terms and conditions?
Mhmm sure…
This question is among the most ignored questions in the history of questions. And, honestly, I'm not here to tell you to read through these thousand page documents. After all, they are subject to change at a moment's notice. What I am recommending is that you read this article and press a few buttons to make your data more private.
– – –
Big tech has come to take over our lives quicker than Taylor Swift writes a song after a break-up.
It's tough to think of an industry that hasn't been revolutionized by advances in technology led by the biggest tech companies. From communication and transportation to shopping, fitness and medicine, no stone has been unturned.
In many cases, our lives have been made better by companies that have seamlessly worked their way into our everyday lives. We have vast amounts of information at our fingertips; we can communicate with family and friends across the globe; and we can buy everything we'd ever need from the comfort of our couch.
Many companies like Facebook and Google were undoubtedly founded with good intentions, and offer a valuable and mostly free service to all users.
However, they have since shifted their business models away from the products and services they provide to focus more on data collection, as well as the ways in which they analyze and monetize your data by selling to advertisers and beyond.
Many people assume that because these platforms are free to use, tech companies are allowed to gather all the data they want without question. It's just the price you pay for using a free service. As the saying goes, "If you're not paying for the product, you are the product."
Companies like these bank on users not knowing how to access and manage their data, making the process long and convoluted to discourage these actions. But the fact is, users of these services have much more control over their data than many realize.
To give a little background on the landscape of data privacy laws and how this impacts us today, in 2018 California passed the California Consumer Privacy Act. This law made it so that consumers are able to opt-out of the sale of personal information, and any company that does business in California (i.e. most large companies in the U.S.) must implement features that allow users to access and delete their personal data upon request. That's great news for us consumers.
But contrary to the European Union with their recently established General Data Protection Regulation (GDPR) guidelines, data collection in the U.S. is "opt-out" vs. "opt-in," meaning users must manually opt-out of data collection if they do not want more data than is necessary to be collected.
One example of a feature that you are opted-in to when using their product is Facebook's Facial Recognition feature, which was implemented a few years ago and allows the platform to scan all uploaded photos and ask "Is this you?" on photos you are not already tagged in. While it may deliver value for some, it is not a necessary feature and you can opt-out if you do not want Facebook to have access to your facial data.
Hidden deep within the settings lie the controls to all your data; what these companies can and can't take, and where they can get it from. We're here today to make it simple and show step-by-step how to view and manage your data in a quick and efficient way on both Facebook/Instagram and Google.
Let's start with your Facebook/Instagram settings.
Managing Your Facebook Data
How to turn off Face Recognition on Facebook:
Navigate to Settings & Privacy > Settings > Scroll to the Privacy category > Face Recognition > Toggle No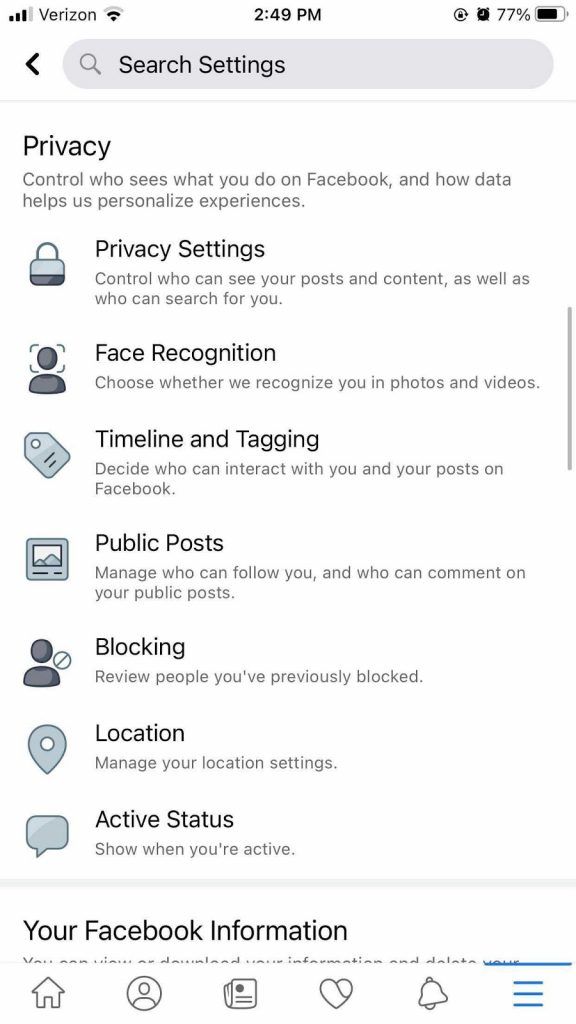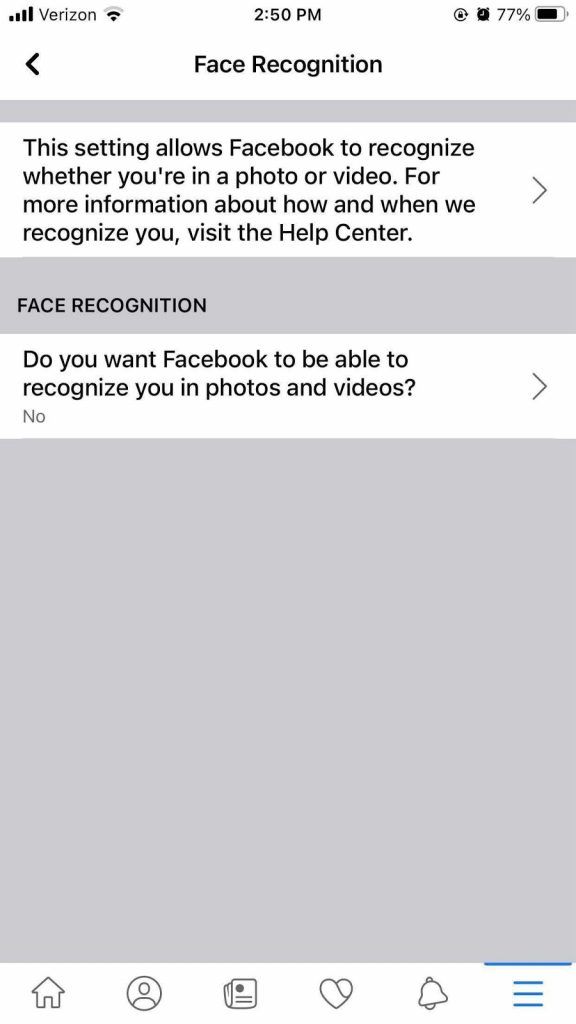 How to manage your Off-Facebook Activity: Data gathered from your web browsing activity and app usage:
Navigate to Settings & Privacy > Settings > Your Facebook Information category > Off-Facebook Activity > Manage Your Off-Facebook Activity.
From here, you'll see the number of third-party apps and websites that have shared your information with Facebook. If you do not want your data and activity from third-party sites to be shared with Facebook, clearing your history prevents Facebook from knowing which sites you have browsed and serving you targeted ads based on your browsing history.
On this page, you can Manage Future Activity by clicking the More Options and toggling Future Off-Facebook Activity off, which disables other apps and sites you visit from sharing your information with Facebook for good.
One caveat to this, if you are signed-in to an app or site using your Facebook login, such as Spotify or Pinterest, you will need to go into your settings on those platforms and adjust your login settings as you will no longer be able to sign in with your Facebook credentials.
This is one way they make it tougher for you to turn this setting off, and a decision must be made here, but the way we see it, the convenience of using Facebook to sign into a few sites does not outweigh allowing Facebook to obtain data from just about all apps and sites you visit, even if you do not use Facebook to login.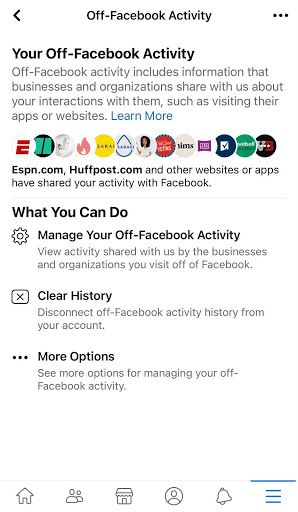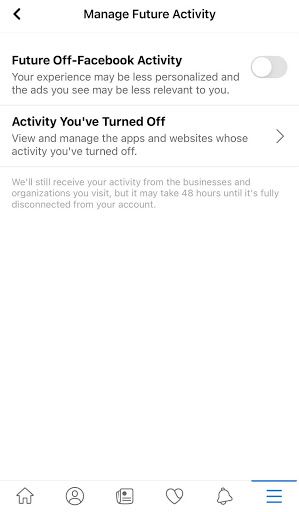 How To Manage The Ads You See:
While you are unable to control the number of ads you see on Facebook, you can control the types and topics of the ads you see. To do this, navigate to:
Settings & Privacy > Settings > Ads Preferences
Once on this page, click on See all your interests to view and manage the different interests Facebook has identified for you based on your on- and off-Facebook activity.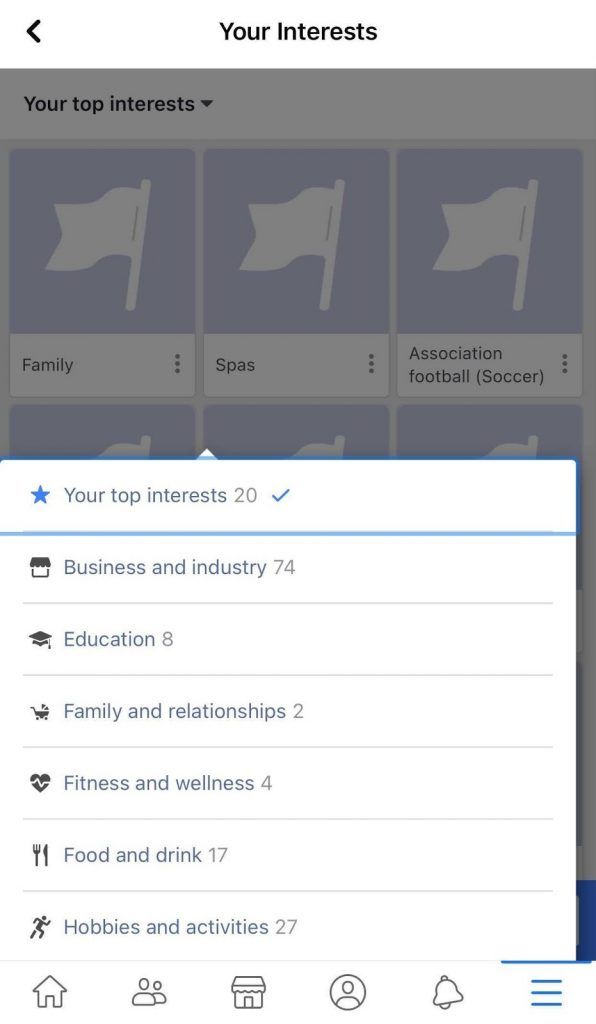 When reviewing this information and clicking through the different categories, you may be surprised at how well Facebook knows your favorite interests and hobbies, from music and sports to politics and education.
You may also be surprised by how many interest segments are not relevant to you at all. It is possible that you may be getting served ads, or be eligible for advertisers to serve you ads, based on interests not relevant to you.
To remove irrelevant interests, click the three dots next to the interest box and press Remove Interest.
Keep in mind that when advertisers use this platform to market products and services, they are able to build an audience based on users' age, location, job title, and the exact interests seen above.
If you do not want to be bucketed into these categories and get served ads based on your interest in WWE Hall of Fame, or some other interest deemed relevant based on a random post you liked 10 years ago, you can limit these ads by removing them from your profile.
In addition to managing the interests in your ad preferences, you can prevent Facebook/Instagram from using information from your profile like your relationship status, employer, job title, or education when serving you ads. This can be found under the Your Information tab.
So for example, if you are recently engaged but don't want to see ads about wedding rings or dresses, you can opt to not receive ads about this change in your relationship status. To do this, go to:
Settings & Privacy > Settings > Ads Preferences > Your Information > Toggle Off
Similarly, if you're tired of seeing ads about politics, alcohol, parenting, or pets, you can opt to see fewer ads about these topics under the Ad Topics tab.
Settings & Privacy > Settings > Ads Preferences > Ad Topics > Click the three dots next to each topic > See fewer ads about this topic
Lastly, and arguably most important, if you'd like to control where the data guiding your interests is gathered from and how it can be used by advertisers, such as recent purchases on a non-Facebook site triggering ads on Facebook or instagram, go to:
Settings & Privacy > Settings > Ads Preferences > Ad Settings > Ads based on data from partners > Not Allowed
Managing Your Google Data
Google's products have become a staple in the information age with a hand in just about all online and even some offline activity. And while the services Google provides are easy to use and offer a seamless experience across platforms and devices, Google is one of the largest collectors of personal data in the world.
At any point in the day, Google can know where you are and for how long you are there, what you're searching on the internet, how long you stay on a site and what you click on, everything you watch and listen to on Youtube, and so on. That's just scraping the surface considering their cell phones, wearables, cloud storage, advertising, and the many other industries they are in and collect data from.
This type of mass data gathering and the precision in which they do it can be very frightening for regular users of their products. It can feel overwhelming and confusing to try understanding what kind of personal data Google has collected from you, how to access it, and how to manage and delete it.
But have no fear. In this section, we take you through your data settings step-by-step to provide you with as much control over the privacy of your data as possible.
How To Make Sure Your Personal Information Is Private
First things first, it's important to know what personal information in your Google account is viewable to the public. Information like your email, birthday, gender, and phone number may all be set to "visible to anyone" in your Google account settings.
To find out, go to Google.com and sign-in with your Google Account. Click on your profile in the top right of the Google homepage, and navigate to:
Manage Your Google Account > Personal Info tab > Choose What Others See > Go To About Me.
From here, you can see the basic information you inputted when setting up your account and if it is visible just to you, your organization, or anyone online. Clicking into each section will allow you to change to private if it is not already.
How To Manage Data From Your Google Activity
There is a feature that many people are unaware of that allows you to view and manage much of the data Google has collected on you over the years, and limit their ability to capture and use this data in the future. To access this feature, go to:
Privacy & Personalization tab > Manage Your Data & Personalization.
Under the Activity Controls section, all of your Web & App Activity, Location History, and YouTube History are housed for you to review and manage.
By clicking into each of these, you can see a detailed view of all of your activity across Search, Maps, and YouTube over time. We recommend exploring each of these pages to see the types of information Google is collecting daily across their products.
This data is used to enhance your experience by auto-filling searches, making suggestions on videos based on your viewing history, and personalizing ads. However, reviewing this information, seeing records of every move you make and the amount of personal data being captured and analyzed for Google's use can be alarming.
If this is the case for you, to fully opt-out of Google collecting and using your activity for advertising and personalization, click Manage your activity controls, and toggle one, two, or each of those three categories Off.
If you are someone who would like more control of your data, but still want Search, Maps, and YouTube to personalize your results, you can set your data to Auto-Delete After 3 months or 18 months, and when selected, any activity older than that will be deleted.
We recommend auto-deleting after three months, as that is just enough time for your recommendations to stay fresh, but not long enough that it leaves a years-long trail of data behind you.
How To Edit Your Ad Preferences
The next setting that's interesting for those seeking more visibility and control over their data is their ad preferences.
Based on activity from Google's products as outlined above, your personal information, and data purchased from third-party vendors, Google develops a personalized profile of each of its users for advertising.
Similar to Facebook's tool that allows you to view and manage your interests, Google's tool is also fairly easy to use, and puts you in the driver seat when it comes to what information Google can and can't use to serve you ads.
You can access this feature by going to:
Manage Your Google Account > Privacy & Personalization tab > Ad Personalization
On this page you'll find a detailed profile of your information emerges containing all your favorite interests, such as music genres, sports teams, and favorite activities like cooking, gardening, or fitness.
Many of these topics will probably be very relevant to you. After all, you are the one searching these topics, watching these videos, and visiting these places in the real world.
However, some of these may not be as relevant to you as others and can get picked up based on the random searches you likely make throughout the day. To remove these interests from your ad preferences, click into each and select Turn Off.
If, however, you want to prevent Google from collecting this information altogether for the purpose of monetizing your data and showing you interest-based ads, you can toggle Ad Personalization Off. Keep in mind you will still see the same number of ads, but they just won't be the hyper-targeted ads you're used to.
In addition, by default you are opted-in to having your personal data being shared with Google's partners for them to advertise on non-Google apps and websites. If you would prefer if your data was not shared with third-parties, go to:
Ad Personalization > Advanced Settings > Uncheck box as seen in the image above.
How To Opt-Out Of Data Collection Across The Web
This last step takes you away from your Google account settings but with one fell swoop you can opt your browser out of having data collected and used by over 100 different companies that aggregate user data for interest- and location-based advertising.
Navigate to this site by scrolling to the bottom of the Ad Personalization page of your Google settings and clicking Ad Choices, or going to this link: https://optout.aboutads.info/
Selecting Opt-Out Of All prevents the participating companies (many of which you've never heard of) from gathering and selling your data for advertising. One pain point is that you need to do this step on every browser and device you use, or at least the ones you use the most. But trust us, it's worth it.
Other Tools To Keep Your Data Private
In addition to changing your data privacy settings within these platforms, there are various free-to-use browsers and chrome extensions that help keep your online activity private and free from cookies, trackers, and other third-party data collectors when surfing the web.
Internet browsers such as Brave and DuckDuckGo block ads and trackers by default and are available on desktop and mobile. These keep your web browsing private from advertisers and allow sites to load faster without having a handful of hidden trackers active in the background.
Chrome extensions like Ghostery, Disconnect, and AdBlock will also limit trackers and ads from following you around online, providing you with a more private browsing experience free from interruption if you would like to keep Google Chrome as your default browser. However, Google can continue being your search engine on Brave Browser and Chrome extensions work just the same.
– – –
Each of these settings are easy to change if you know where to look and what to look for. It is important to understand the privacy settings of the platforms you spend the most time on to have the most power over your data. With these tools, you can prevent your data from being taken advantage of, and monetized to the greatest extent, by big tech companies. Advertisers like me will hate you, but your personal data privacy is more important than advertisers making a few bucks.