Building a Bold Brand from the Ground Up
How can you build a deeper connection to a brand when there is no brand?
In higher education, establishing a connection with prospective students is critical. The brand you create becomes more than just an image — it's ultimately the story, soul, and embodiment of the pride students and faculty take in your school well beyond graduation.
Eastern Connecticut State University looked like every other institute, struggling to stand out among a crowded higher education landscape. But Rebel led them to a bold concept they couldn't have imagined.
Concepts Based on Core Attributes
During an AMP session geared to helping Eastern Connecticut State University reimagine its brand, Rebel found the school had no brand; just groups of assets with no real central story. There was no cohesive identity — other than its name — on which to build messaging and marketing.

After the session, Rebel surveyed the students and faculty to understand what made Eastern special to them. Using that information, we crafted three core concepts built around the school's Warrior mascot with the goal of building consensus on one.

Two of the concepts were on the safe side, while the other took the Warrior theme head-on, embracing its spirit and tenacity.

While the stakeholders voiced concern regarding the potentially negative connotation around the word "Warrior," Rebel built on its positive characteristics — Determination. Preparation. Respect. — to create a new brand theme, featuring related colors, fonts, textures, and an overall bolder vibe highlighting the skills Eastern instills that lead to careers.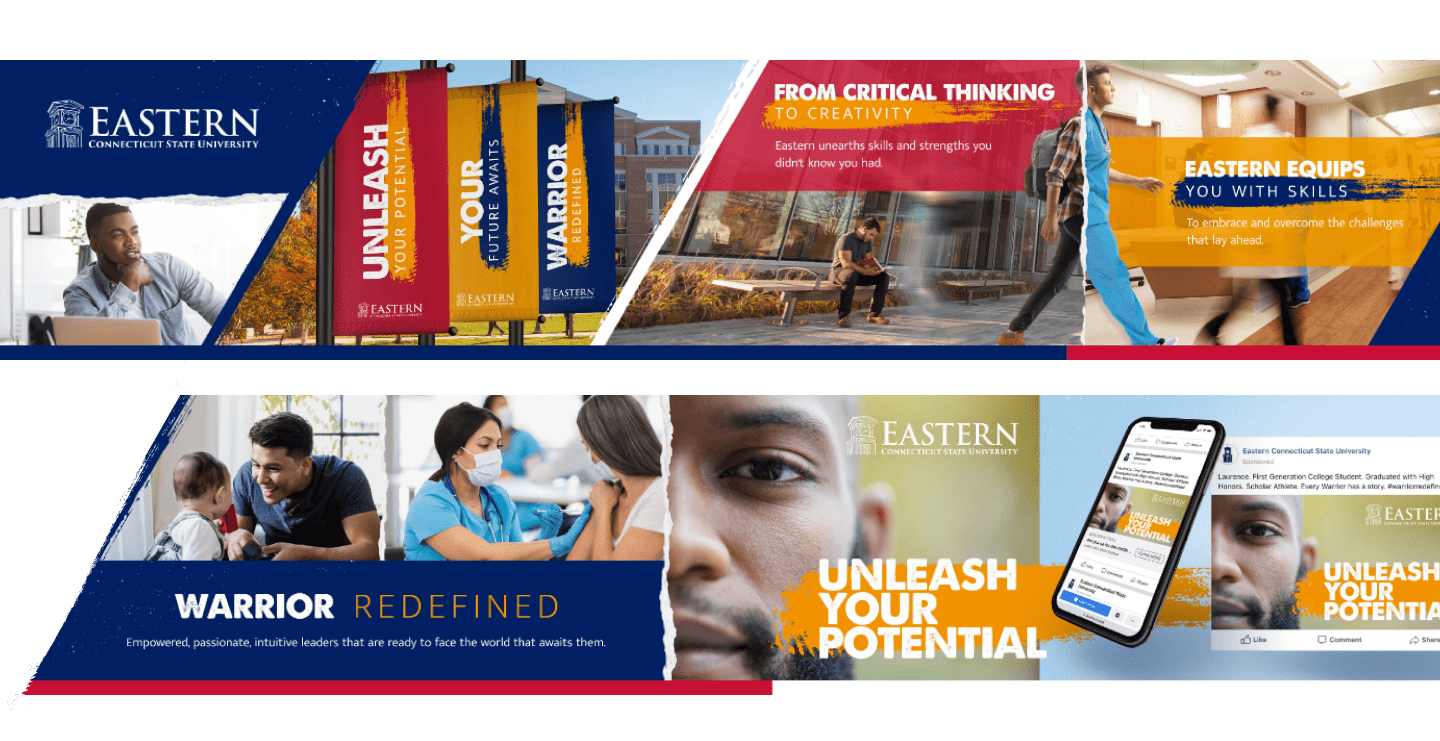 Safe vs. Bold
After presenting the concepts, we came to a stalemate on concept agreement. So, we disrupted the process and made the spot decision to put it to a vote. Safe or bold? Surprisingly, everyone in the room came down on bold.

Although a vote may seem counterintuitive to gaining consensus, it pulled the stakeholders out of their comfort zone and forced them to make a choice. We knew it wasn't easy, but we also knew we had the opportunity to create a major change for the school.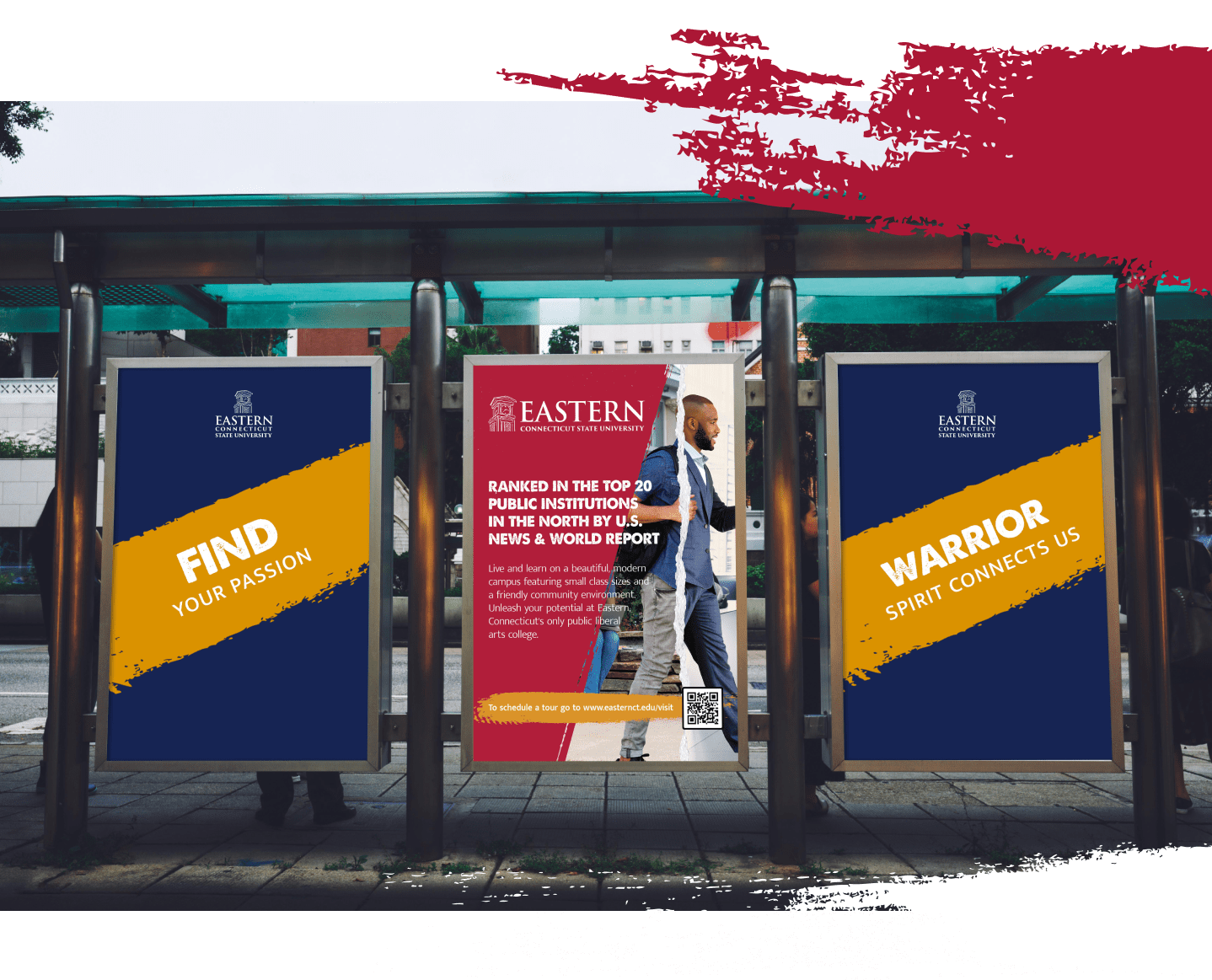 Building Out the Brand
Once we had agreement, Rebel created a range of newly branded assets based on the Warrior theme and attributes, including everything from posters, videos, and digital ads to sweatshirts, swag, print collateral, and more.

The result was a new, bold brand that served as the basis for more than marketing materials; it suffused every asset and the entire campus with the Warrior spirit.

DESIGN: Elements from the brandscape to include:
student to professional graphic
social media post
digital ad banners
campus flag banners
hoodies
billboard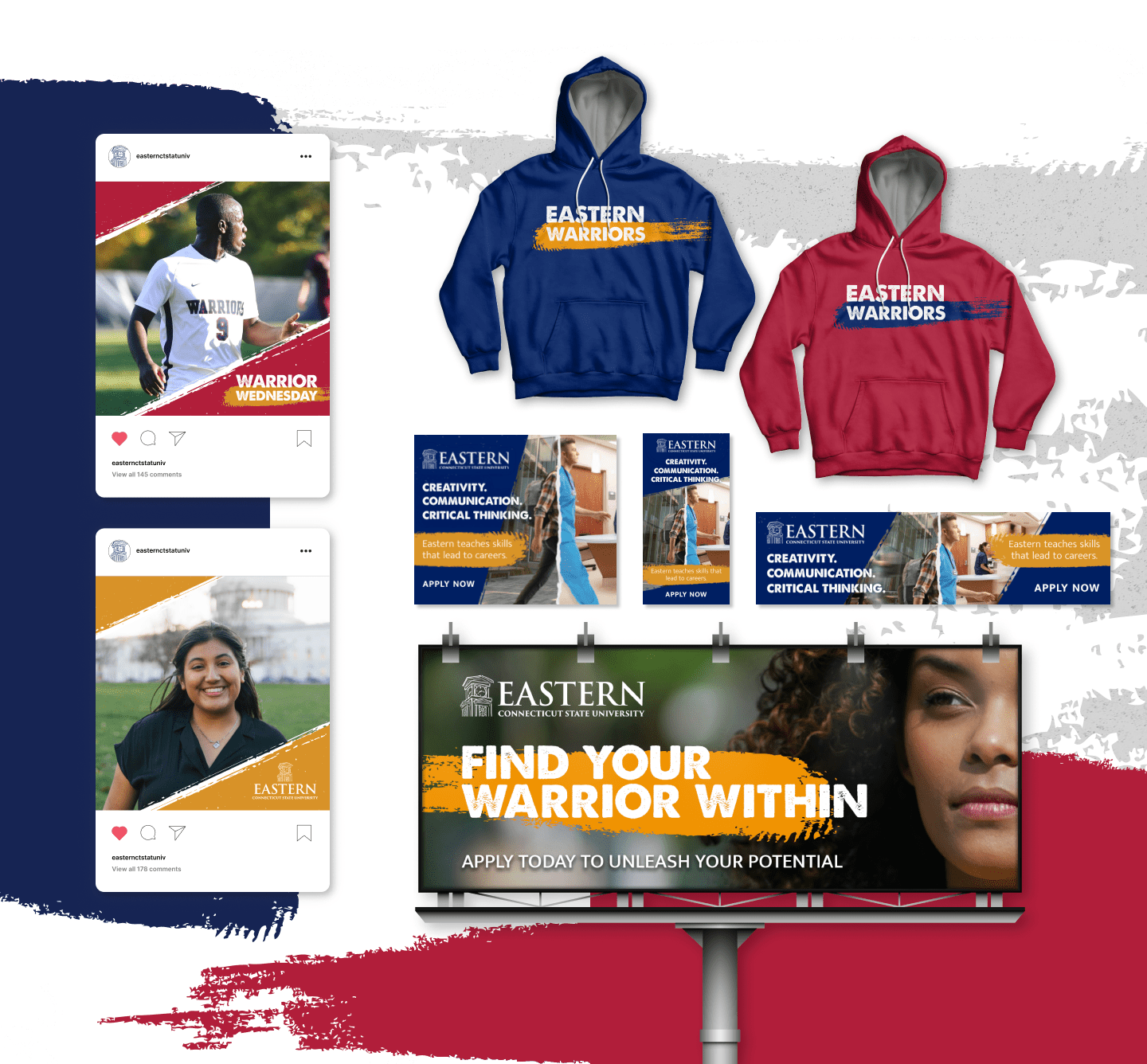 Are you ready to promote your brand?
Let's get your journey started